Why does your program show the pv generating during evening hours? Further, the program tells me that my data is higher than atmospheric data… location 22 Deg South and 72 W.
Did you create that solar radiation data with HOMER? It looks shifted one hour, at least if I'm right that the time zone is GMT-4 like mainland Chile.
I used HOMER to get monthly solar data for 22°S 72°W. HOMER synthesized hourly radiation from those monthly data, and I exported the hourly surface and extraterrestrial radiation data, then plotted them along with the data you sent. Here is a typical sunny day, showing that your data (blue line) seems shifted by about an hour compared to the extraterrestrial data (red line).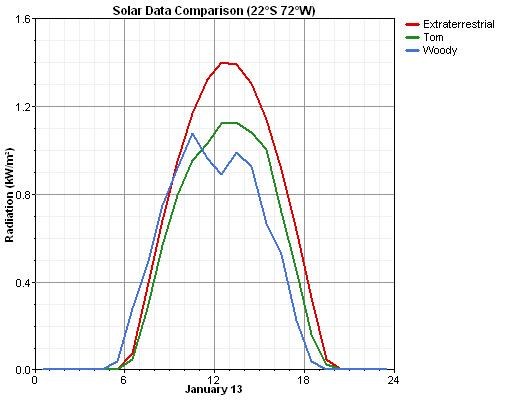 It's not hard to end up with an offset of this kind: a different time zone, a different assumption about solar versus civil time, and daylight savings time can all introduce a shift. For the record, HOMER uses standard civil time and ignores daylight savings.
Maybe your data set is based on the GMT-5 time zone, or on solar time. If I'm right that GMT-4 is the correct time zone, then the data should peak at about 1pm because at 72°W you're 12 degrees west of the standard meridian of the GMT-4 time zone (which is 60°W) and it takes the sun almost an hour to travel 12 degrees.
So that's why HOMER is telling you that your data exceed extraterrestrial data some of the time. My guess is that it's always in the morning.
As to why HOMER is reporting the PV array producing power when the sun seems to be down, I suspect it's happening when there is some tiny amount of solar radiation on the horizontal surface, and the equations are giving a huge "tilt factor", which is the ratio of the radiation incident on the tilted PV array to that incident on the horizontal surface. Three dimensional trigonometry can be like that: you can get crazily high magnification factors on the margins, such as at sunset and sunrise.