I think if you set HOMER up so that measured wind data is set at say 10metres but hub height is 50m then HOMER scales automatically.
Yes, HOMER will scale the wind speed to account for the wind shear between the anemometer height (which you enter on the Wind Resources Inputs window) and the wind turbine hub height (which you enter on the Wind Turbine Inputs window). It assumes a constant wind shear, which you can enter by clicking the Variation With Height button on the Wind Resources Inputs window
But a warning: the constant wind shear assumption is really too crude an approach if you need to scale all the way from 10m up to 50m or 60m. That is because the wind shear tends to vary strongly by time of day. The graph below shows a typical situation, where the average daily profile of the wind speed at 10m is qualitatively different than at 45m: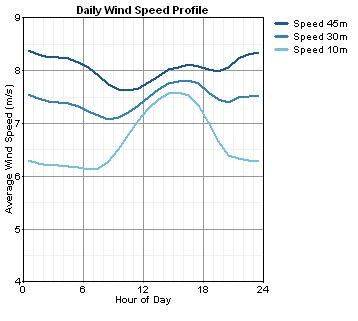 The following graph shows the wind shear (power law) exponent versus time of day for the same data set shown above: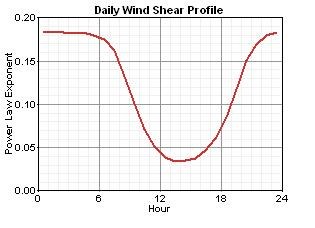 This almost universal pattern occurs because the daytime solar heating causes much greater mixing in the atmosphere, and hence greatly reduced wind shear during the warm part of the day.
The moral of the story is that a 50m anemometer is much better than a 10m anemometer if you want to model a wind turbine with a 50m hub height. So if you have met tower data, use the data from the highest anemometer. If all you have is 10m anemometer data, then just be aware that it will not represent the hub height wind speeds very well.