There does not seem to be a convenient way to specify the number of days of autonomy for battery systems, and this can have a big cost impact on very small systems.
HOMER does let you specify the size of the battery bank, just not in terms of days of autonomy. You specify the size of the battery bank in terms of the number of batteries it contains, and if you enter multiple quantities HOMER will model them all and rank the results by total life cycle cost.
The Simulation Results window, which appears when you double click on a system in the Optimization Results list, shows the hours of autonomy of the battery bank. I have circled that in the screenshot below: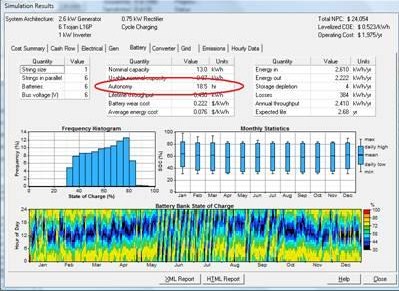 The help file shows the equation HOMER uses to calculate the autonomy.