Product: All HOMER software
This article explains how to create a new user account at users.homerenergy.com. An account is necessary to download HOMER software, add modules and training, as well as manage your HOMER licenses. Note: For compatibility with the HOMER website, we strongly recommend using either the Firefox or Chrome browser.
Step 1 - From the main website, homerenergy.com, go to the login page by clicking the SIGN IN button at the right side of the main navigation bar at the top of the window.


Step 2 - On the login screen, select "Create One" to begin creating a new account. Enter your email address, enter your password twice (your password must be at least eight characters long), and click Sign up.


Step 3 - You will be taken to the Confirm Email Address page which tells you that a confirmation email has been sent to your email account.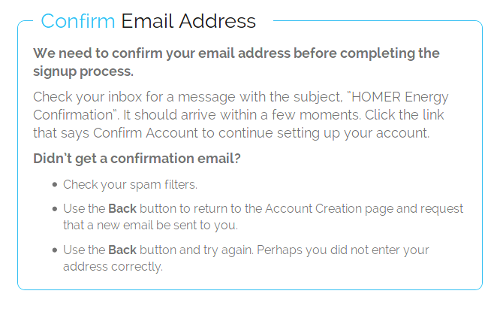 Step 4 - In the confirmation email you receive, click the "Confirm my account now" link.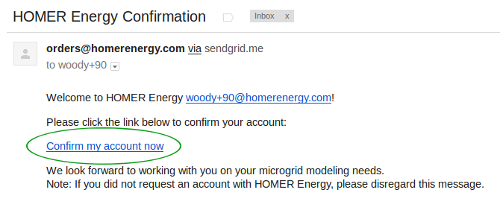 Step 5 - A new browser window will open to the HOMER login screen, with the message that "Your account was successfully confirmed" on the Log In page. You may now login here with your email and password.
Step 6 - Once you log in to your new account, you will be taken to the New Personal Profile page, then to the New Organization Profile page where you can complete all the required fields. The information you provide here will be helpful to complete before you download or purchase any HOMER products or files.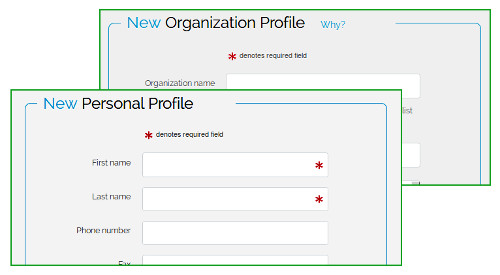 Step 7 - After completing the Organization Profile, you will be given the option of completing the HOMER Usage Survey. If you choose to skip the survey, you can complete it at a later time.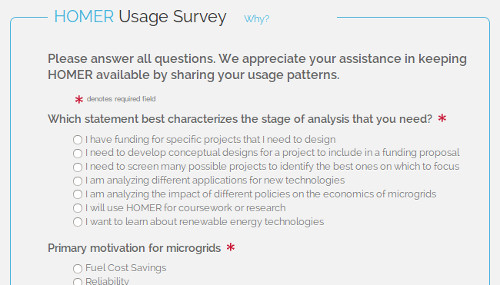 Step 8 - The final step is to provide answers to the Password Recovery Questions, which can be used to recover your password if necessary.
Congratulations! You have successfully created a new HOMER user account! You can now download HOMER software and make purchases.