This article describes how to install and license HOMER Pro. Please make sure that you have already downloaded the installer.
1. Click on the install file, which ends with ".msi", to begin the install process.
2. The HOMER Pro Setup Wizard will begin.
3. You must accept the license to continue.
4. IMPORTANT! If you do not have the .NET framework installed, Windows will begin to install it for you. You should allow this install. .NET is a crucial, free Microsoft product that helps us keep HOMER updated more frequently.
5. Once HOMER (and .NET, if necessary) are installed, start HOMER. You will be told that you need a license. As this image shows, there is no charge for your initial evaluation license, which will work for 30 days. Evaluation licenses are fully functional, and give you everything a paid license gives you.
6. Enter the email address that you used to create your account with us and click on the blue "License HOMER Pro" button. You'll be connected to HOMER Energy website, where you'll be told that an evaluation license has been created for you. You will be instructed to return to HOMER Pro and click the "License HOMER Pro" button again.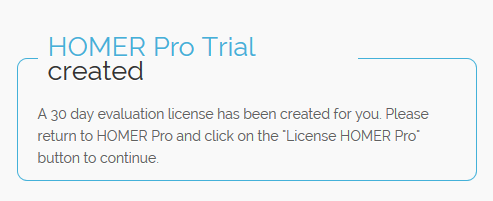 7. Once you have clicked the "License HOMER Pro" button again, HOMER Pro should retrieve your license. (If you get redirected to the website, please read this article.)
8. The licensing window in HOMER Pro will now indicate the expiration date, which should be one month away, and the modules that are active for you. Click the "Ok" button to begin using HOMER.
9. Your evaluation license is fully functional for all purposes, but it has two key differences from a paid license. First, you cannot turn off the 3rd party ads that appear in the product. You do have the ability to turn those off in the paid product. And second, it has a specal tool called the "Module editor" that allows you to see how each of the modules changes the program's behavior. Our pricing system allows you to purchase only the modules that you need.